[Company News] Vinh Hoan honored as "Corporates for Sustainable Development of Mekong River Delta 2018"
12 October 2018
On October 11, 2018, 
Vietnam Chamber of Commerce and Industry in Can Tho (VCCI Can Tho
) organized the honoring ceremony of multiple awards, namely "Corporates for Mekong River Delta community", "Corporates for sustainable development of Mekong River Delta 2018", "Outstanding businesspeople of Mekong River Delta 2018", "Outstanding Corporates of Mekong River Delta 2018". The ceremony was also supported by the People's Committees, departments, and business associations of provinces in Mekong River Delta.
This ceremony was to honor the contribution of businesspeople and corporates to the socio-economic development of the Mekong River Delta and the country as a whole, and at the same time to connect the network of outstanding businesspeople and corporates in the region.
Within the scope of the ceremony, with the participation of relevant agencies such as the Consulate Generals, the Chambers of Commerce, VCCI had organized the exhibition of products and services among awarded companies and entrepreneurs to bridge their products to the market.
Following the sustainable policies since its early days, together with constant innovation and advances, Vinh Hoan has continuously introduced a wide variety of high-quality products from pangasius. Its farming operation has been certified with international standards such as ASC, Global GAP, 
BAP
, etc. Vinh Hoan is proud to be awarded in the ceremony.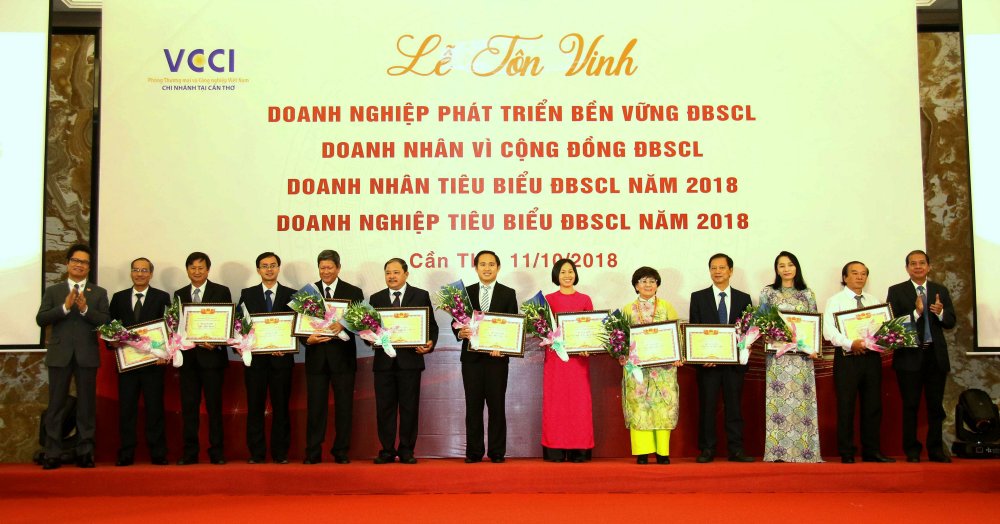 (Source of photo: Vietnam Times Newspaper)
Reported by: VINH HOAN CORP.