Vinh Hoan and BASAmaster sponsored "0 Dong Market" at University of Medicine and Pharmacy HCM
15 September 2021
During 2 weeks from July 20, Vinh Hoan Corporation and BASAmaster brand under the company sponsored 180 boxes of BASAmaster products and 50kg of fish sausages for the "0 Dong Market" at the University of Medicine and Pharmacy in Ho Chi Minh City.
The fourth wave of Covid-19 epidemic in Ho Chi Minh City, in general, has broken out for more than 3 months. This epidemic has been extremely complicated, the number of infections has increased rapidly, causing many difficulties and losses in terms of economy, health and people's lives. With the spirit of sharing with the community, Vinh Hoan Corporation quickly implemented a food support program for frontline doctors and nurses in the fight against the epidemic and people in difficulty.
In the midst of the complicated epidemic situation and the rainy and stormy weather in Ho Chi Minh City in recent days, transportation to key points of anti-epidemic also faced many difficulties. Vinh Hoan and the BASAmaster team always try their best to get the goods transported to the frontline.
The gift-giving trip includes:
180 boxes of BASAmaster products in which:

60 boxes Family Fish ball BASAmaster
60 boxes Fish Steak BASAmaster
60 boxes Dried Fish BASAmaster

50 kg fish sausages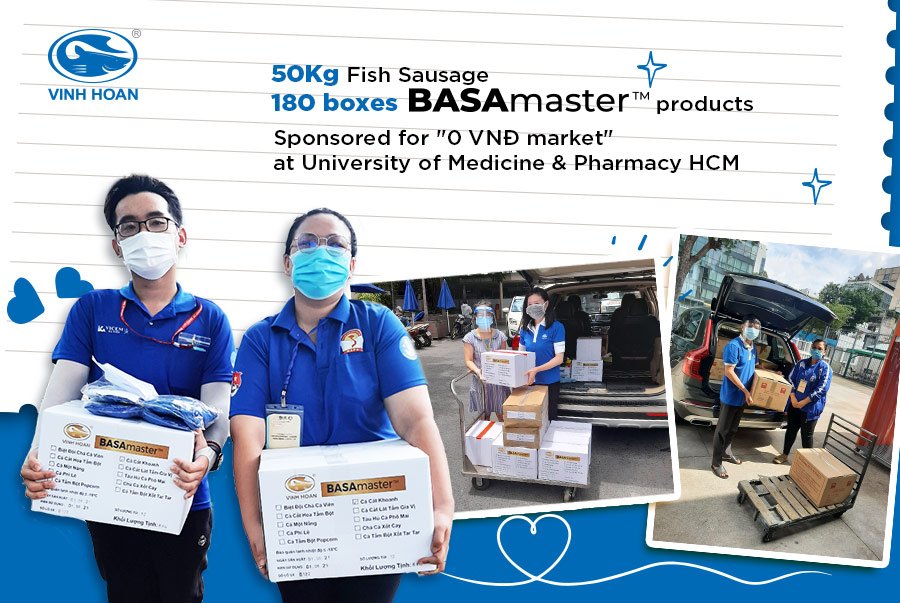 We hope that with the fresh products from Vinh Hoan Corporation and the BASAmaster brand, their meals will be more nutritious, delicious, and energetic to continue fighting. May our frontline always be strong and hope that everyone will stay strong and stay healthy.