Visit us at the VIETFISH 2023 exhibition to explore our innovative product portfolio
10 July 2023
Are you ready to embark on an extraordinary seafood journey? Look no further than Vinh Hoan Corporation's Booth at the highly anticipated VIETFISH Tradeshow 2023. As a prominent player in Vietnam's pangasius fish industry, we invite you to explore their diverse range of value-added products that will redefine your seafood experience. 
SCHEDULE AN APPOINTMENT: Click Link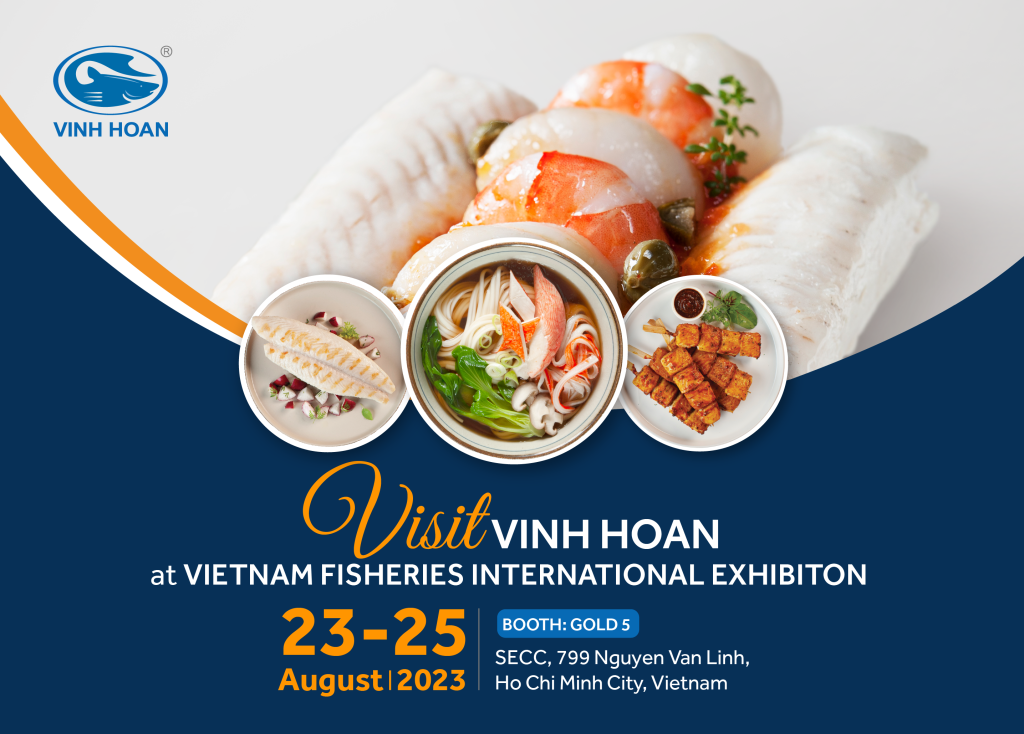 Taste Premium Pangasius Creations
1. Exploring New Taste of 2023: COCO PANGA & LOTUS PANGA
This year, Vinh Hoan has continuously researched and developed a line of convenience processed products that only take 5 minutes to prepare, with two pioneering products, Coco Panga and Lotus Panga. Remarkably, Coco Panga has garnered esteemed recognition as a finalist for the prestigious Global Seafood Excellence Award in Barcelona. This exceptional creation flawlessly blends pangasius fish with an exquisite coconut sauce, delivering an unparalleled taste sensation that sets it apart from conventional offerings.
2. A Must-Try! Vietnam's Premier Pangasius Surimi
With advanced technology and high-quality raw material pangasius fish, Vinh Hoan offers Pangasius Surimi products with delightful flavor, high gel strength, and natural whiteness compared to other seafood-based surimi. It provides an excellent culinary experience. It can be confidently stated that Vinh Hoan is one of the leading entities in the Vietnamese seafood industry, successfully producing high-quality pangasius Surimi. Vinh Hoan's Pangasius Surimi optimizes the low saturated fat content criterion, offering not only delicious and healthy products but also nutritional value. 
3. Exploring Vinh Hoan's Diverse Product Portfolio in Circular Economy
Join us at our booth to experience Vinh Hoan's innovative products and commitment to the circular economy. Discover delightful meals and a diverse range of collagen, gelatin, fish oil, and more derived from abundant Pangasius ingredients. Be part of our journey towards market leadership. 
More Exciting Experiences Await at Vinh Hoan's Booth 
Join the Fun, Get Special Gift

 
Enjoy the fun-filled atmosphere as you enjoy the games, interactive challenges, and delightful surprises. We invite you to participate and experience the joy of our engaging activities at our booth. Whether you're a long-time supporter or new to our brand, we want to express our gratitude by sharing our exceptional products. 
Celebrity Chef, Live Cooking Performance

 
Join us at our booth in the tradeshow and prepare to have your taste buds tantalized by our skilled chef's captivating cooking demonstrations. Immerse yourself in preparing delectable dishes using the finest pangasius recipes. 
Don't miss out 
Visit Vinh Hoan's team at BOOTH GOLD 5 – VIETFISH TRADESHOW 2023 to explore Vinh Hoan's diverse portfolio of value-added products, collaborate, and embark on a new journey of flavor, innovation, and healthy nutrition.
SCHEDULE AN APPOINTMENT: Click To Here