HOW IS YOUR PORTFOLIO SHAPING UP? LET'S VISIT VINH HOAN TEAM AT VIETFISH EXPO 2022
27 July 2022
 After the 2-year hiatus from the Covid-19 pandemic, the VIETFISH expo returned as a meeting place to connect the vibrant Vietnamese seafood market with global businesses. VIETFISH expo is the annual event of Vietnam seafood and Vietnam Association of Seafood Exporters and Producers. Over 20 years, VIETFISH has affirmed a vital role in connecting domestic and international seafood. 
VIETNAM SEAFOOD: PEAKED FOR THE THIRD CONSECUTIVE MONTH GROWING AT A RECORD 
The year 2022 is also an excellent opportunity for Vietnam's seafood industry.  In the first six months of 2022, Vietnam's seafood market export has positive growth signals and peaked for the third consecutive month, growing at a record. In which the total pangasius export value reached 1,42 billion USD, up to nearly 82,4% over the same period last year.   
In addition, in the face of supply disruptions due to the influence of the Russia-Ukraine war, the world market has many 'gaps' for pangasius producers like Vietnam to explore. Pangasius demand has witnessed significant growth in the EU due to recent current events. Besides, the market expects China's food service activities to recover, and some importers are building inventory in anticipation of the reopening in the following months. Demand from other markets, such as Mexico, Thailand, and the Middle East, are also increasing in recent months.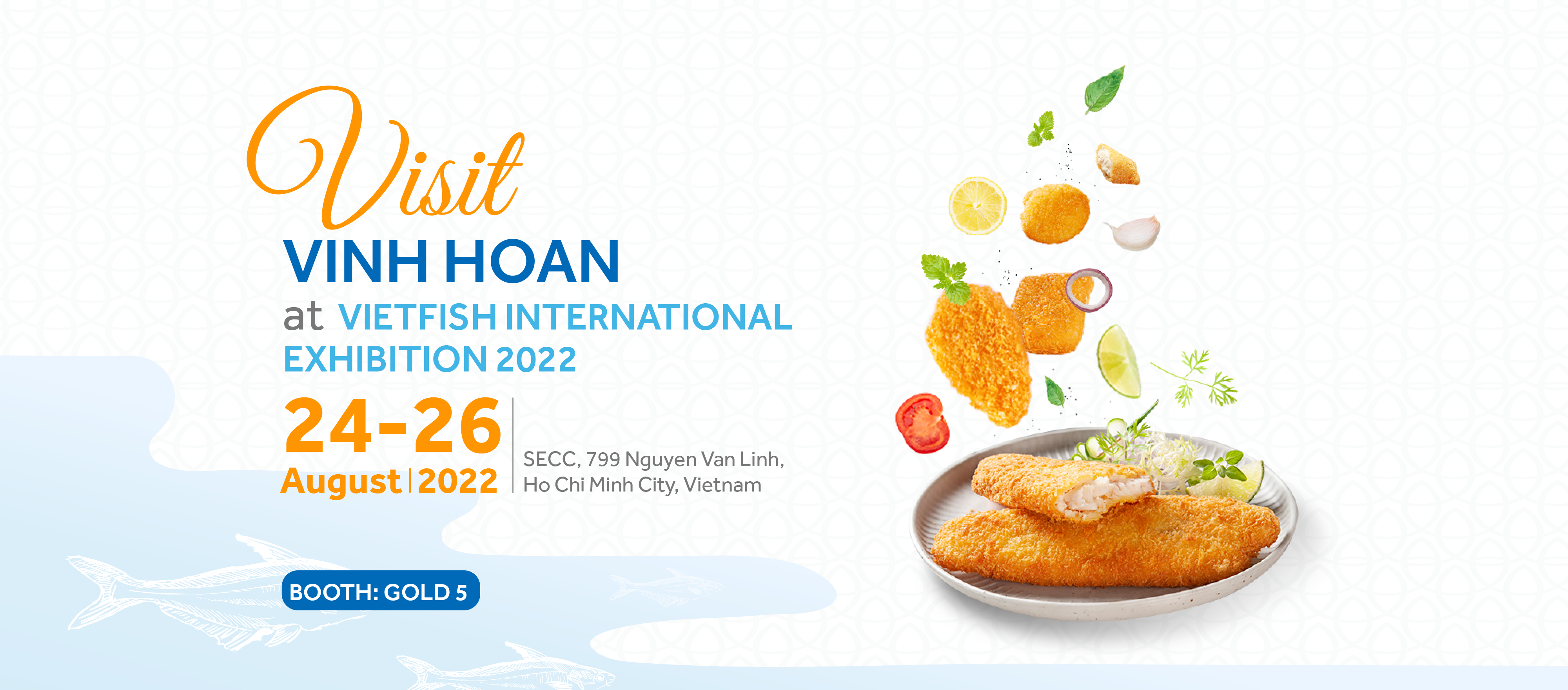 VISIT VINH HOAN CORPORATION – TOP 5 SEAFOOD COMPANY IN VIETNAM 
Booth: Gold 5 

Date: August 24 to 26, 2022

 

Location: SECC – Saigon Exhibition and Convention Center, 779 Nguyen Van Linh Street, District 7, Ho Chi Minh city.

Try our new Pangasius products and more! 
Our global portfolio of consumer-favorite recipes in more than 50 countries has created nutritious, tasty, and innovative pangasius products for generations. Our products are produced with extreme care for health and quality and tailored to meet diverse market preferences. And we continuously innovate, so our products stay ahead of worldwide trends. 
A wide range of premium pangasius:
Premium Pangasius Fillet

 

More than 30 value-added pangasius

 

Don't miss our new products: SURIMI & CRAB STICK

 

Grow your business and stay competitive! 
Vinh Hoan is a pioneer in technology development for Pangasius. We are proud to be the first corporation in Vietnam to obtain ASC certification and other crucial industry-recognized certifications in farming. Currently, 100% of farming areas are certified by ASC, BAP, and Global GAP. Additionally, Vinh Hoan is developing a hatchery complex that serves as a hub for innovations in farming performance via continuous R&D efforts in genetic breeding selection, fish vaccination, and circular water system enhancement.