Surging Ahead: Vietnam Pangasius Export Market Sustains Growth for Two Consecutive Months
16 November 2023
Vietnam Pangasius export is thriving with double-digit growth in many prospective markets and exploring Vinh Hoan's industry leadership.
Overview

 
In the fluctuating landscape of international trade, Vietnam Pangasius exports have shown commendable resilience and growth, painting a promising picture for the industry at the end of 2023 and the first of 2024. September and October 2023 witnessed a continuous positive surge, with total turnovers reaching 167 million USD (a 1% YoY increase) and 189 million USD (a 5% YoY increase) respectively. The average price of pangasius exports in Q3 fluctuated between 2.6 – 2.7 USD/kg.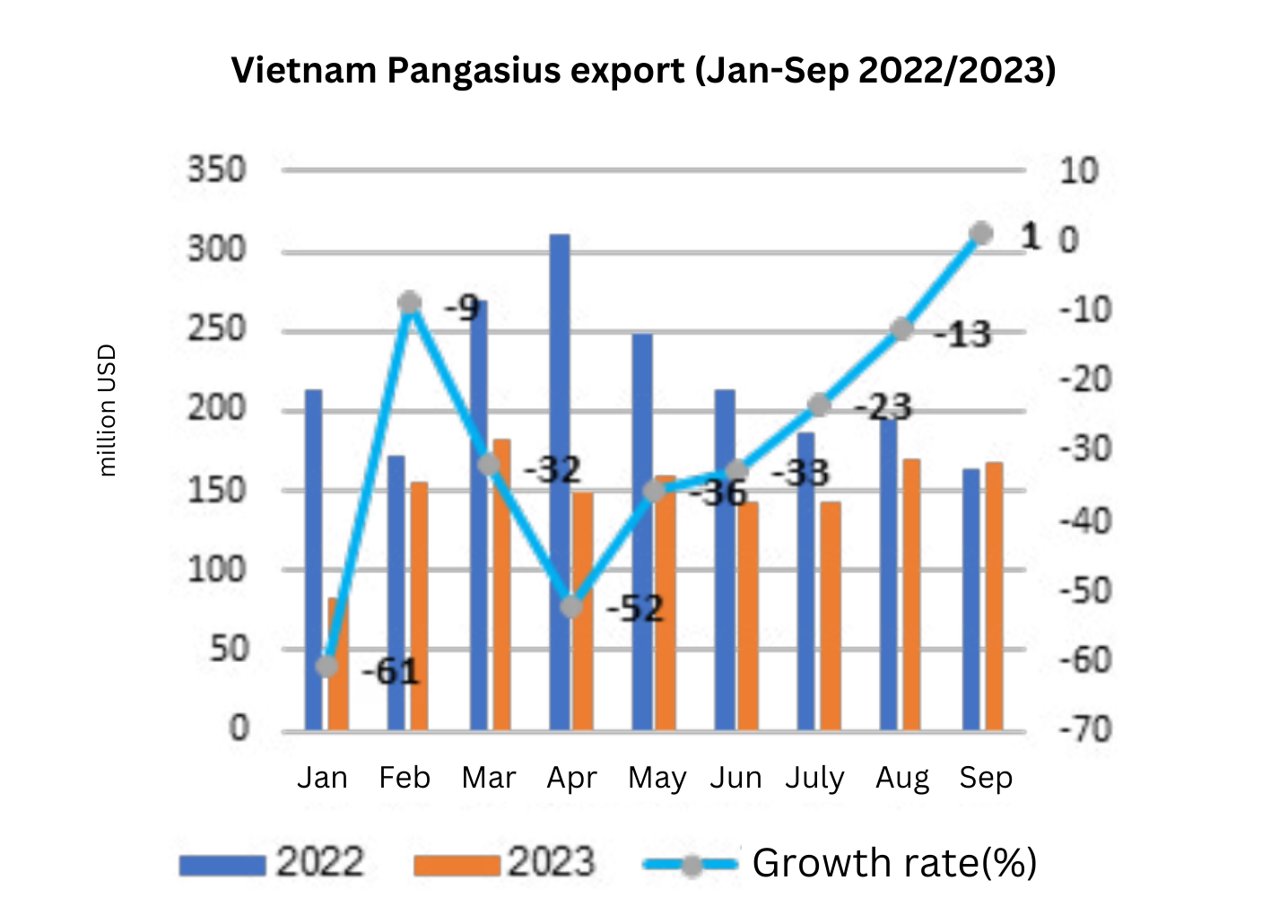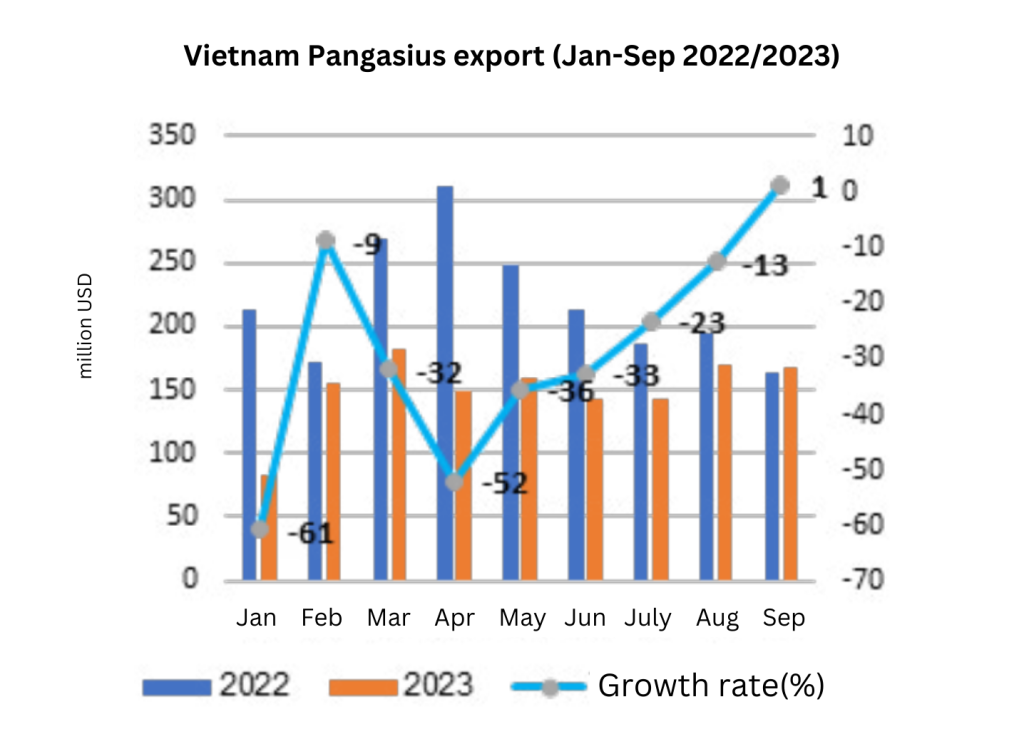 Pangasius

Export

s

Market

Highlights


The US: Recovery of Vietnam Pangasius Exports
In Q3 2023, pangasius exports to the US experienced a 32% decline, improving from sharper declines of 64% and 58% in Q1 and Q2 due to different key global factors such as food price inflation, war-torn US imports, and substantial inventory. Projections indicate recovery in Q4 2023 and into 2024 due to inventory diminishing and holiday demand.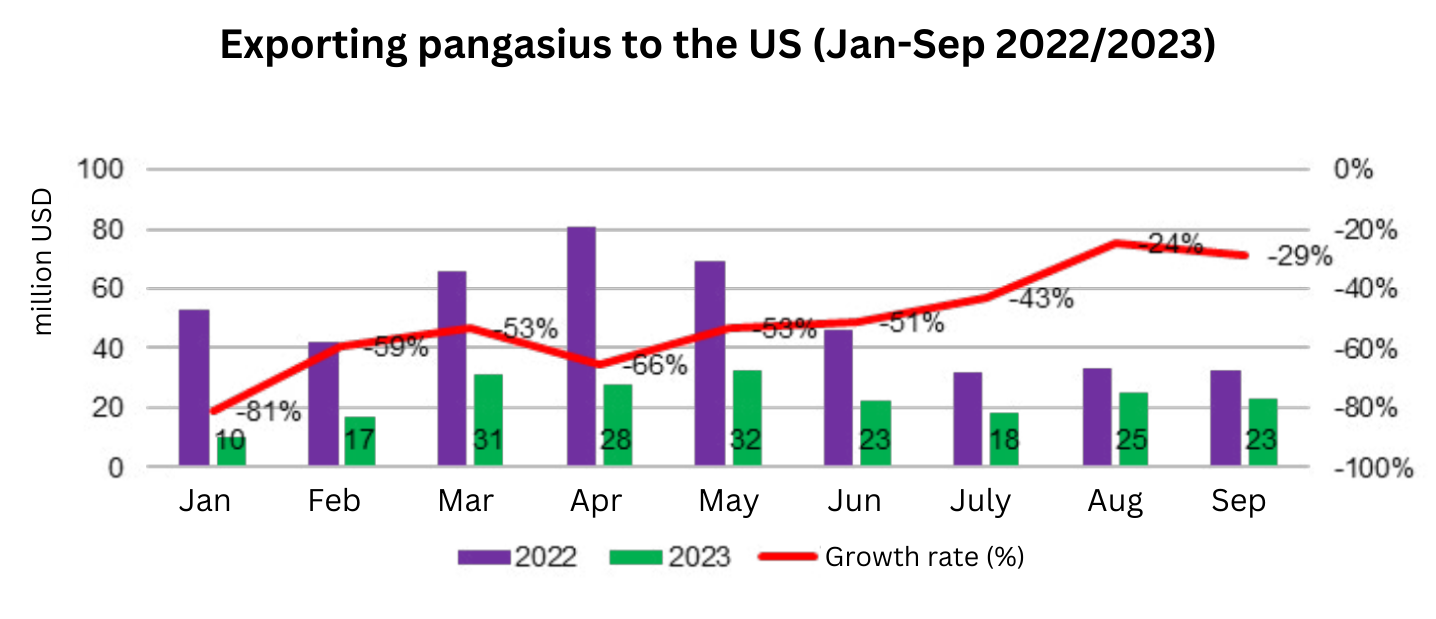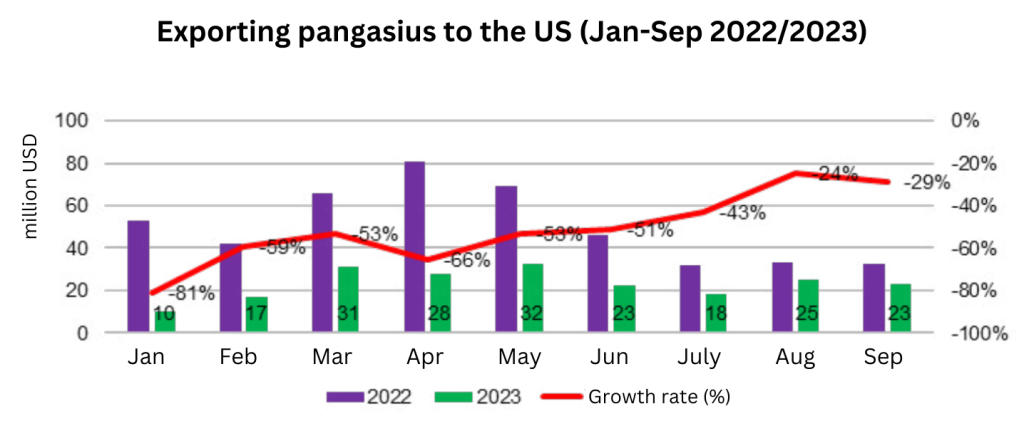 EU Market Embraces Vietnamese Pangasius
In September 2023, the European Union witnessed an 11% YoY growth in Pangasius exports, indicating a growing acceptance of Vietnamese products. This positive trend is a testament to the industry's ability to meet the stringent standards of the EU market.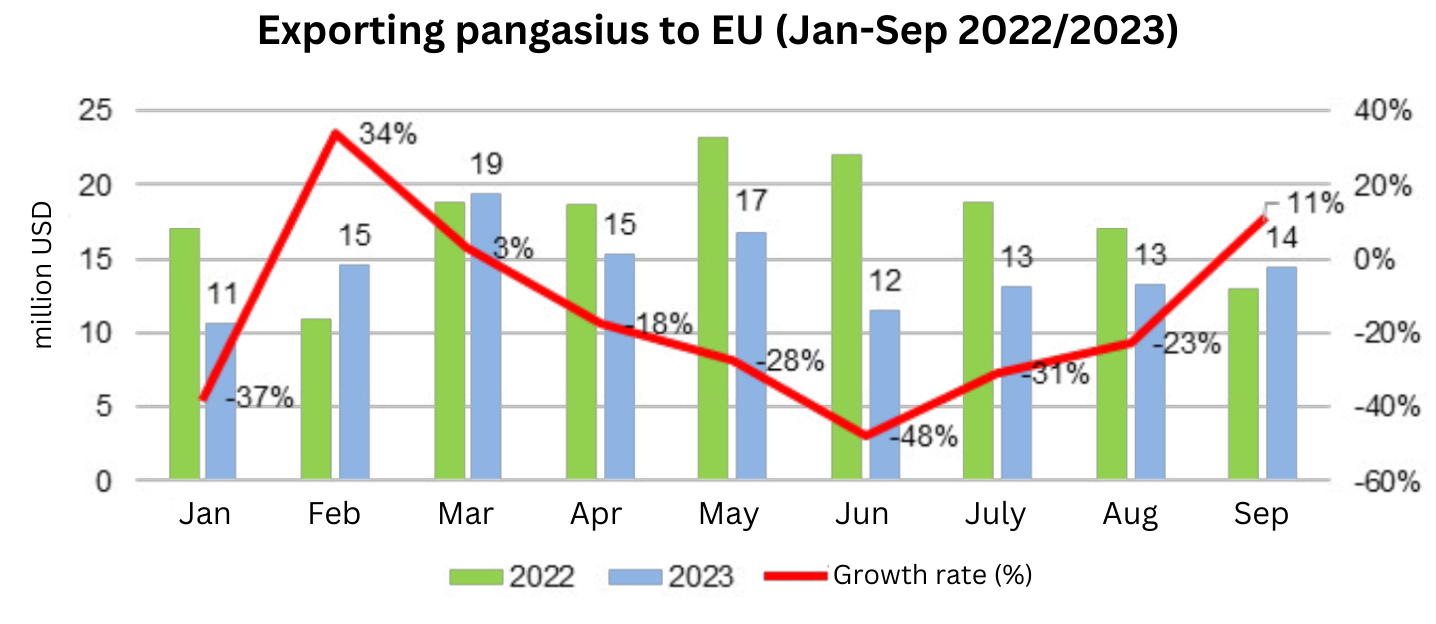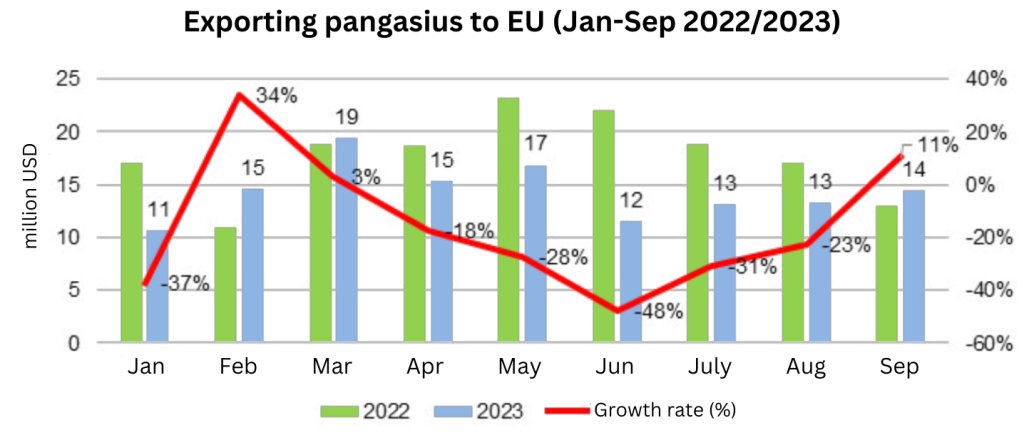 China-Hong Kong: Appetite Grows
China-Hong Kong exhibited a standout 15% YoY growth with a value of 56 million USD. The stable Chinese economy with a 5.2% growth in the first 9 months of 2023 and an anticipated 5% GDP in 2023, indicating stable consumer spending, creates favorable conditions for Vietnam's pangasius exports to this populous country.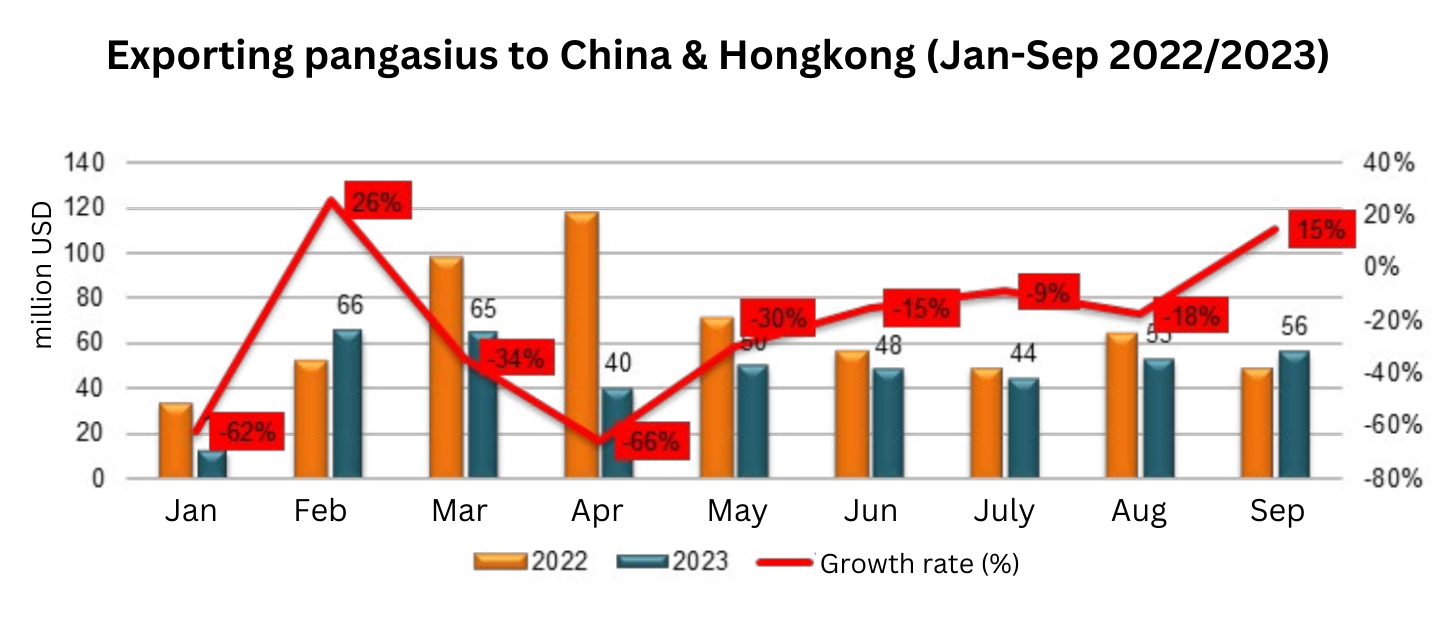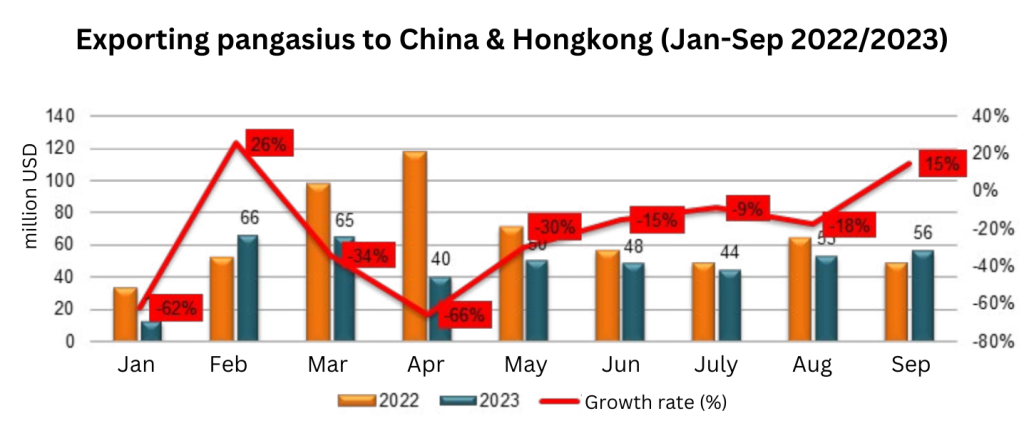 Vinh Hoan's team actively participated in the China Fisheries & Seafood Expo 2023 on October. Engaging with numerous potential customers and experts, we grasped the evolving demands of this vast market, with a notable focus on the appeal of Vinh Hoan's Butterfly Pangasius products.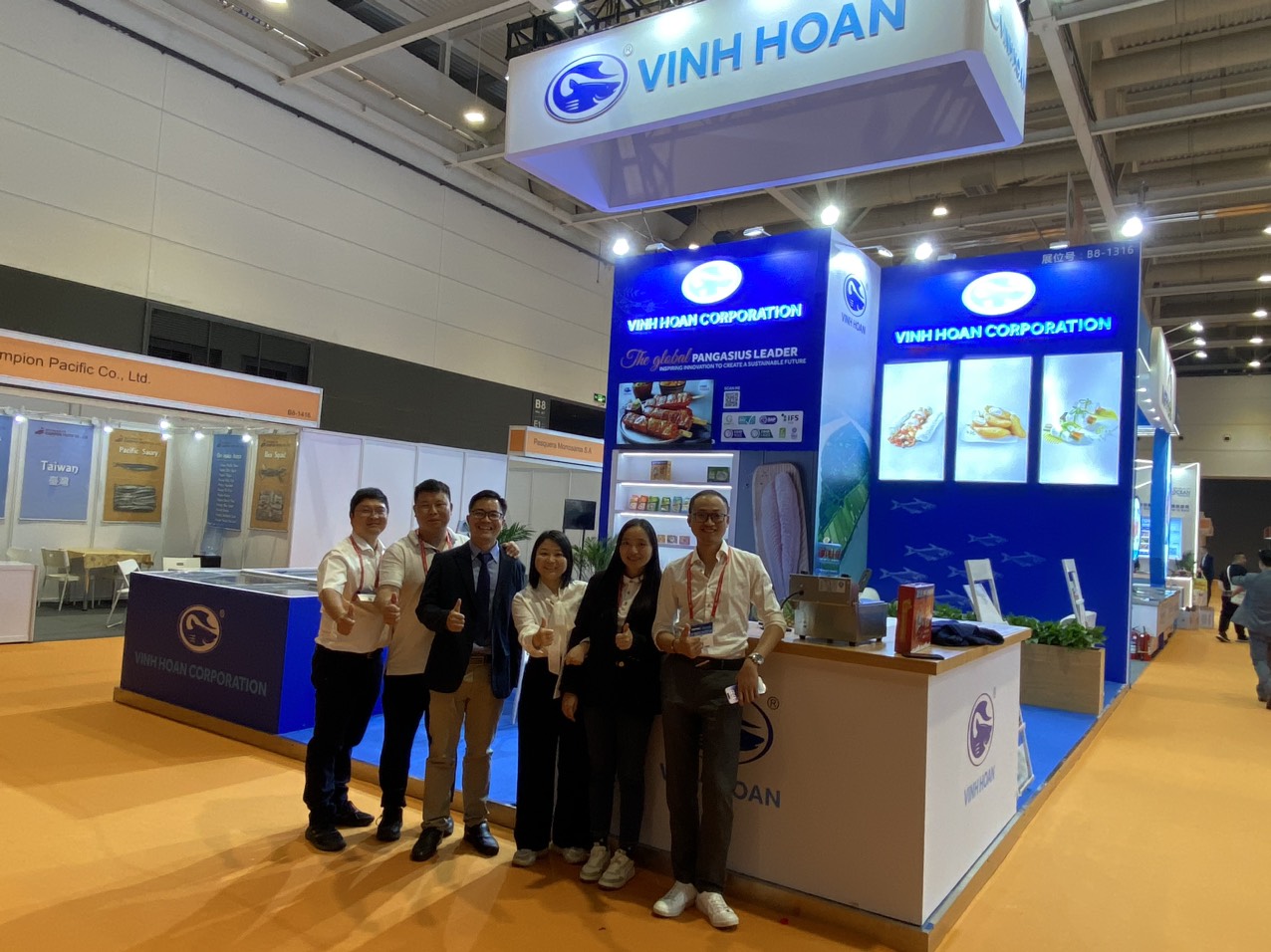 CPTPP Import Surge
The CPTPP played a pivotal role indicating a remarkable growth at 17% (YoY). Japan, Mexico, and Canada significantly contributed to this growth with export values of 1.3 million USD (up 75%), 2.4 million USD (up 59%), and 3 million USD (up 16%) respectively, which emphasizes the global appeal of Vietnamese Pangasius products and the strategic importance of international agreements in fostering trade relationships, opening new avenues for exports.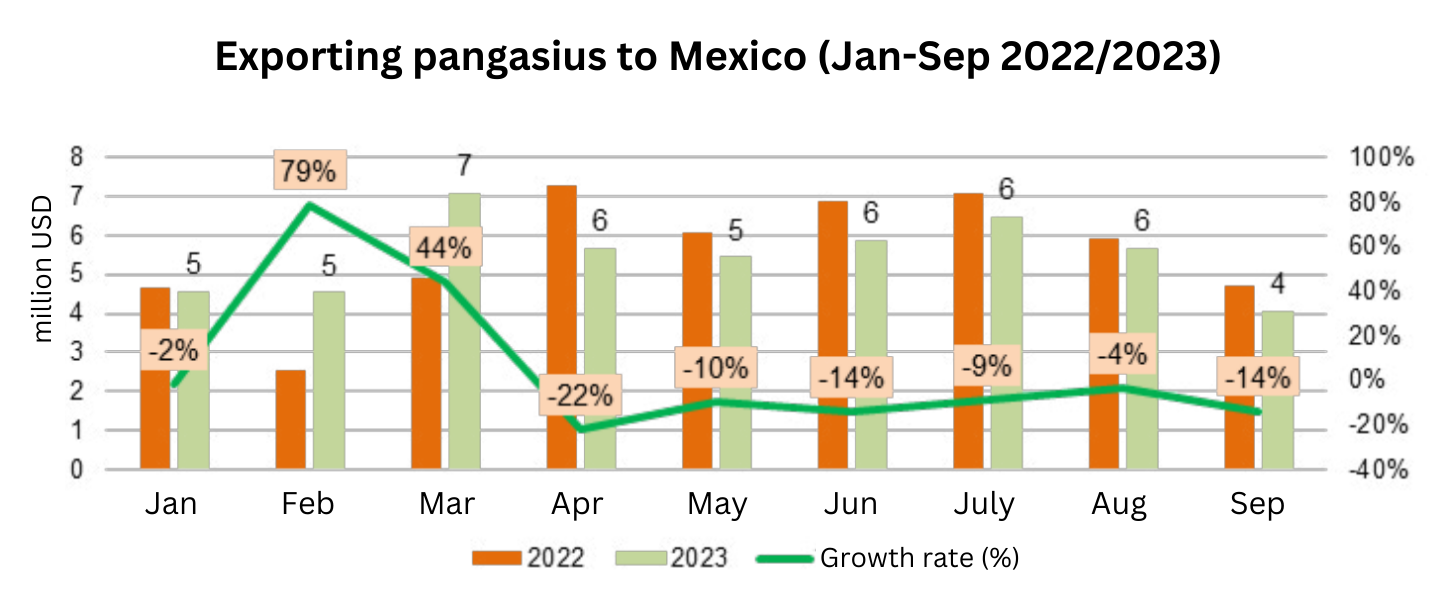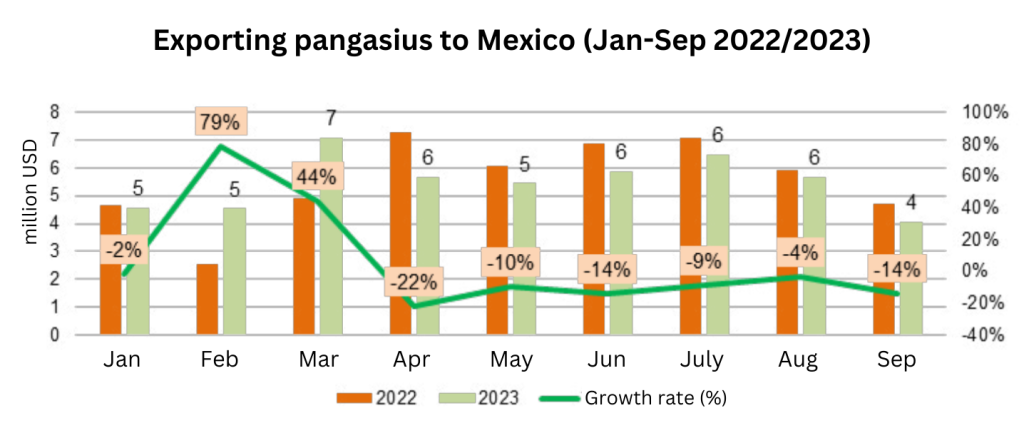 Brazilian Market Surges Ahead
With consistent double-digit growth throughout three months in Q3 2023, the Brazilian market stands as a key partner in the success of Vietnamese Pangasius exports. Pangasius fillet is more appealing to Brazilian consumers due to its affordable price, delicious taste along with rich nutrition amid global inflation and the tense Russian–Ukraine war.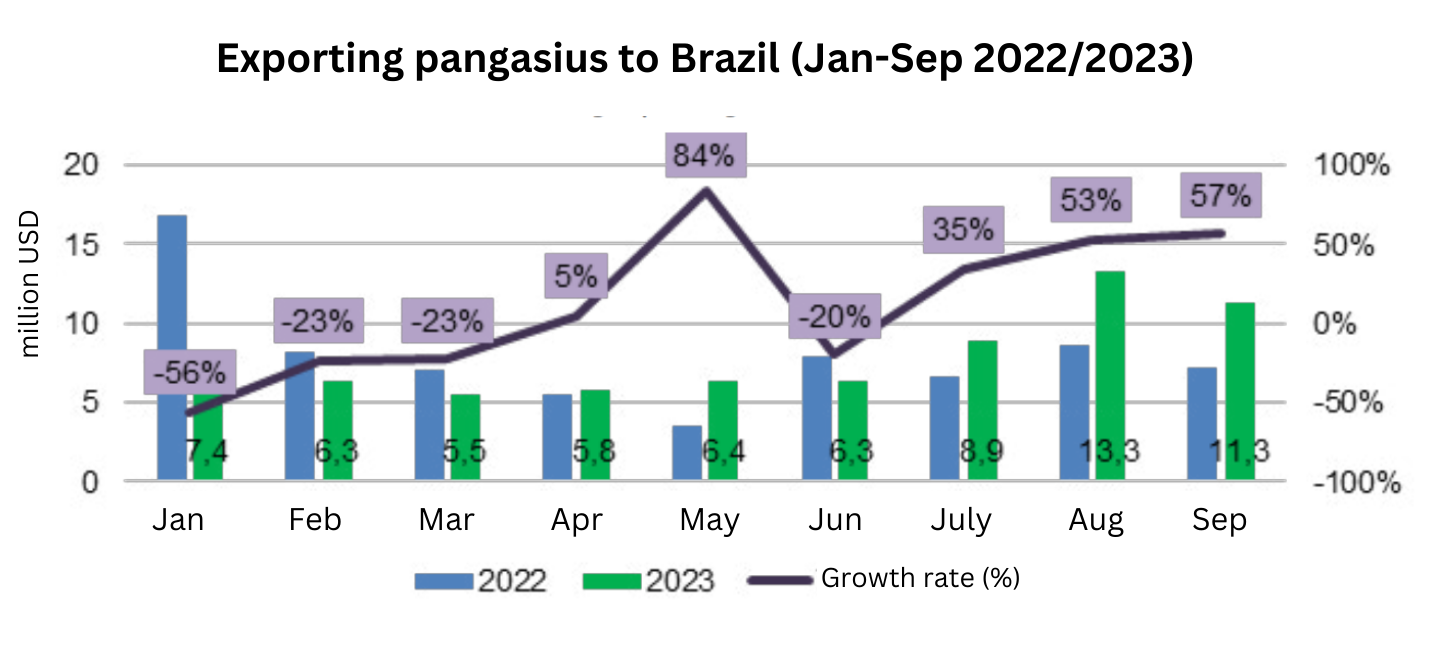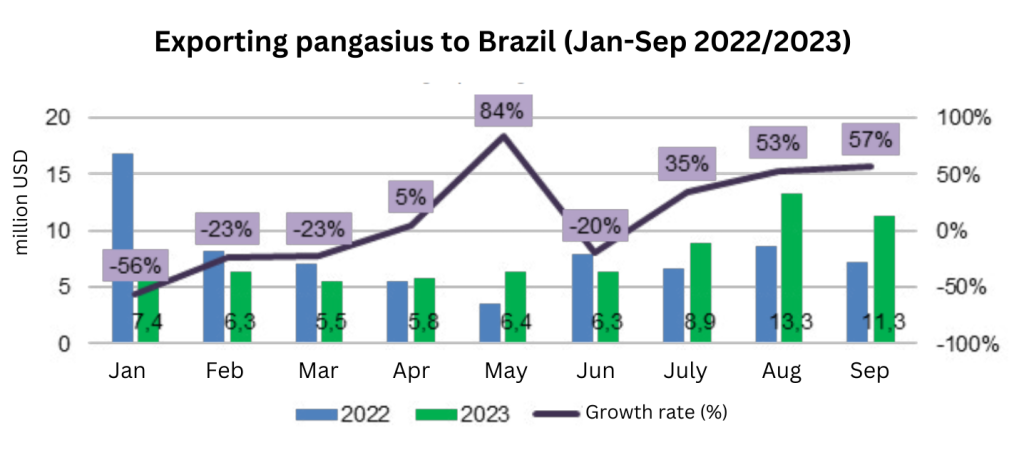 Seizing the market demand from previous quarters, in October, Vinh Hoan was present at the Seafood Show Latin America 2023 in Brazil with a wide range of strategic innovative products, connected with potential clients and fostered valuable cooperation opportunities.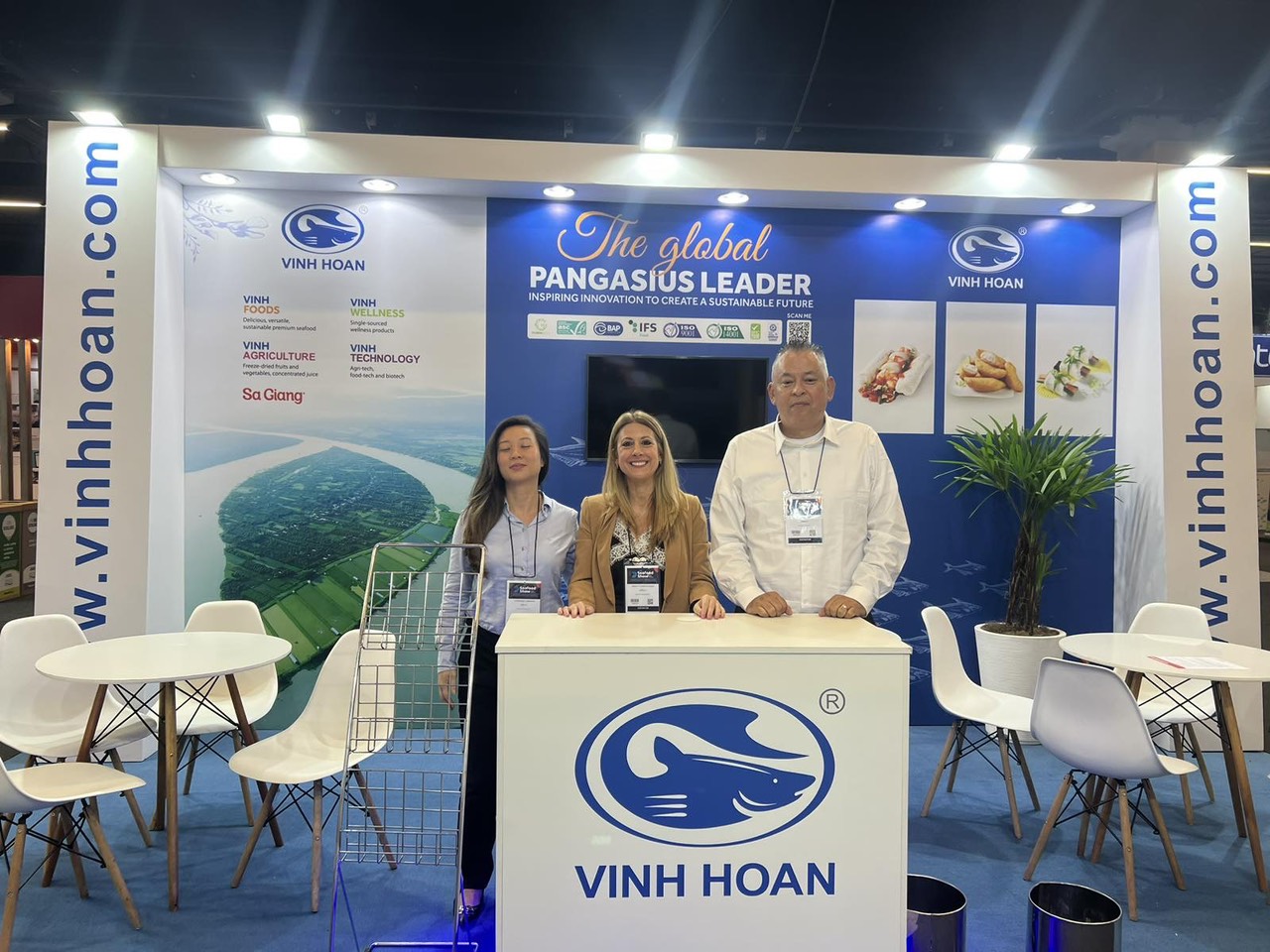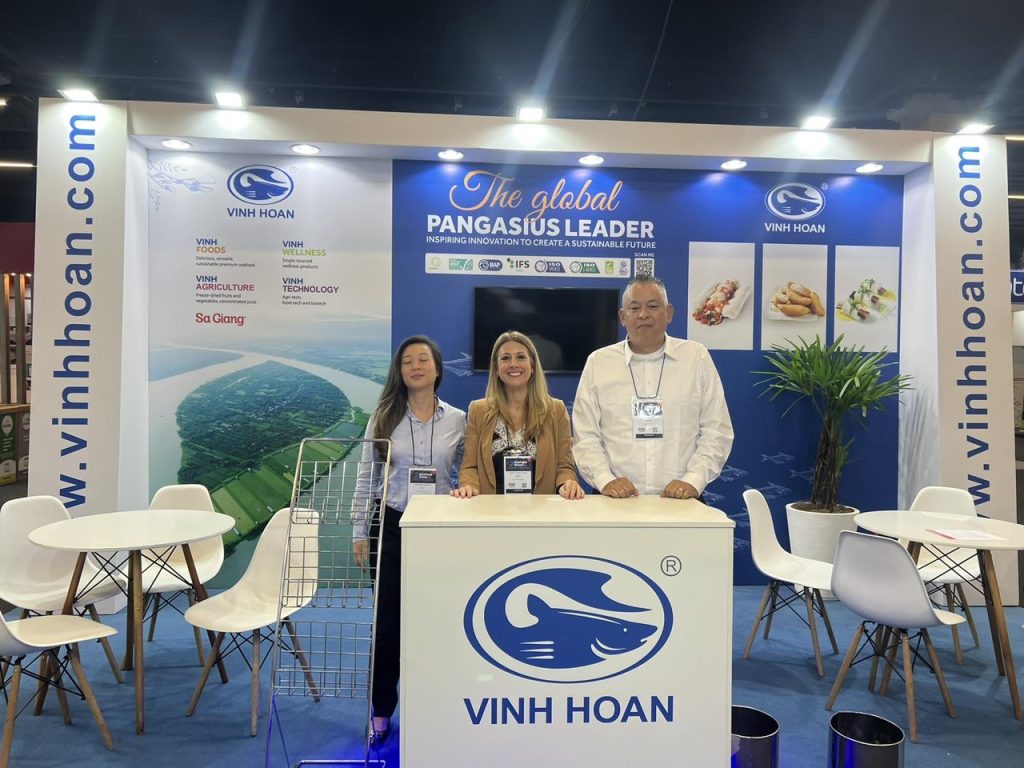 Pangasius Market Trends: Anticipating Stable Development 
As we gaze into the future of Vietnam's Pangasius exports, optimism prevails. The market is anticipated to witness stable development, buoyed by year-end demand. Projections indicate a recovery in exports, narrowing the decline gap compared to the same period last year. There is optimism that Vietnam's Pangasius exports could potentially reach a turnover of 2 billion USD by the end of this year, marking a decrease of just over 440 million USD compared to 2022. These figures underscore the pangasius industry's resilience and its ability to adapt to changing market dynamics. 
Vinh Hoan: Global Pangasius Leader Amidst Market Volatility 
Despite the fluctuating market, Vinh Hoan remains a leading Top 5 exporter to the US, commanding a 49.4% share in the initial 9 months of 2023. In Q2 2023, Vinh Hoan's US export revenue rose by 31% compared to Q1, while Q3 witnessed improved output and pricing, attributed to sustainable competitive advantages. Notably, on September 7, 2023, the US Federal Register introduced a preliminary anti-dumping tax rate of $0.14/kg for Vietnamese frozen pangasius fillets, with Vinh Hoan benefiting from a 0% tax rate. 
Vinh Hoan's strengths lie in our extensive production capacity and commitment to sustainable practices evidenced through certifications such as ASC, Global GAP, BAP 4 stars, and HACPP. 
Besides, our product diversity is a key driver of success. Including more than 50 categories of Pangasius fillet, Value-Added Products (VAPs), Surimi, and Wellness innovations derived from Pangasius by-products such as collagen and gelatin. This forward-thinking approach aligns with the growing demands of health-conscious consumers, solidifying our position as an industry frontrunner.