IntraFish – Can pangasius fill the whitefish void in wake of Russian shutdowns?
10 April 2022
A number of factors come into play as western processors begin to forsee a possible scramble for product.
Pollock and cod caught in Russia and processed into frozen blocks are a mainstay of the West's breaded fillet and fish finger industry. But as the noose closes on Russian supplies, which species can step into the breach is a question on everyone's minds.
Russia's bloody invasion of Ukraine has led to severe consequences for Russia's seafood exporters, with whitefish producers among the hardest hit.
The United States banned seafood imports from Russia earlier this month, taking a sizeable market off the table for Russia's cod and pollock exporters. The United Kingdom, where frozen fish giant Young's Seafood and others process Russian fish, announced an additional 35 percent tariff on whitefish imports from the country.
The EU has yet to take a position specifically impacting seafood, but several large companies across the globe, including several major European retailers, have said they will block any new Russian product from entering their supply chains.
This will leave large European processors in a precarious position. With additional volumes from Norway, Iceland and the Faroes in tight supply, major buyers reliant on whitefish imports — including big brand names such as Birds Eye and Iglo parent Nomad Foods, Young's and Germany's Frosta — are looking for alternatives.
Pangasius may be one of the answers. Fast-growing and cheap, the fish is a mild-tasting, soft-fleshed whitefish that has been a mainstay on the US market for years, and at one point had a large European presence as well.
Find a niche and fill it
US figures show just how quickly the fish can fill a market need. In 2000, just over 3,100 metric tons of pangasius was imported into the United States, worth $10.7 million (€9.6 million). Ten years later, imports had grown over 1,400 percent. Through 2021, pangasius imports were over 100,000 metric tons, worth $318.8 million (€287.4 million).
The EU has traditionally been a huge market for Vietnam. But two consecutive years of decline in pangasius exports to the EU has led to an exodus of Vietnamese companies from that market.
Nevertheless, early 2022 trade data suggest this trend could be changing. Figures through the first half of February show pangasius exports to the trading bloc are up 40.2 percent year on year to a value of $20.2 million (€18.2 million).
Vietnam Association of Seafood Exporters and Producers pangasius market analyst Ta Ha called the results "the most optimistic growth after many months of stagnation or plunging numbers."
After COVID-19 took its pound of flesh, many European importers faced financial difficulties, with pangasius demand stagnant and logistics costs rising.
The challenges sent exporters who once had a competitive market in the EU to less favorable markets in China, Mexico, Brazil, Egypt and Colombia.
While interruptions forced Vietnamese exporters to go elsewhere, the positive start to 2022, may attract companies back to the EU, especially if the expulsion of Russian product drives up demand, said Ha.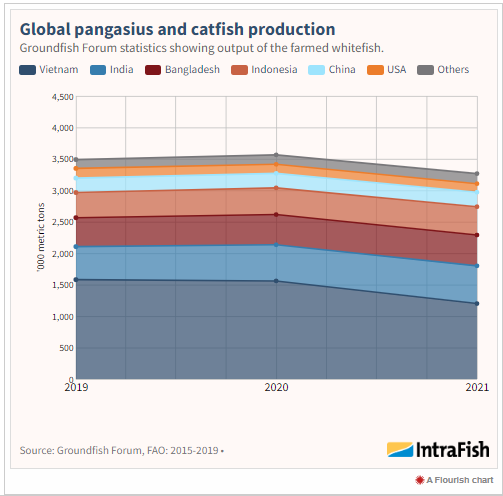 Rising overhead may dampen enthusiasm
Pangasius has some tricks up its sleeve that make it well-suited to filling voids. It is omnivorous and requires low volumes of feed, making it comparatively cheap to produce.
It is also fast growing, with fish reaching a market size of around 1 kilogram in 6-8 months, compared with 18 months on average for salmon.
Hoa Truong, chief sales officer at Vietnam's largest pangasius processor, Vinh Hoan, says these advantages mean the fish will be a good candidate for filling any whitefish shortfalls.
"As pangasius is a farmed fish with an approximately eight-month farming circle, and can be farmed all year round, the supply would be stable," Truong told IntraFish.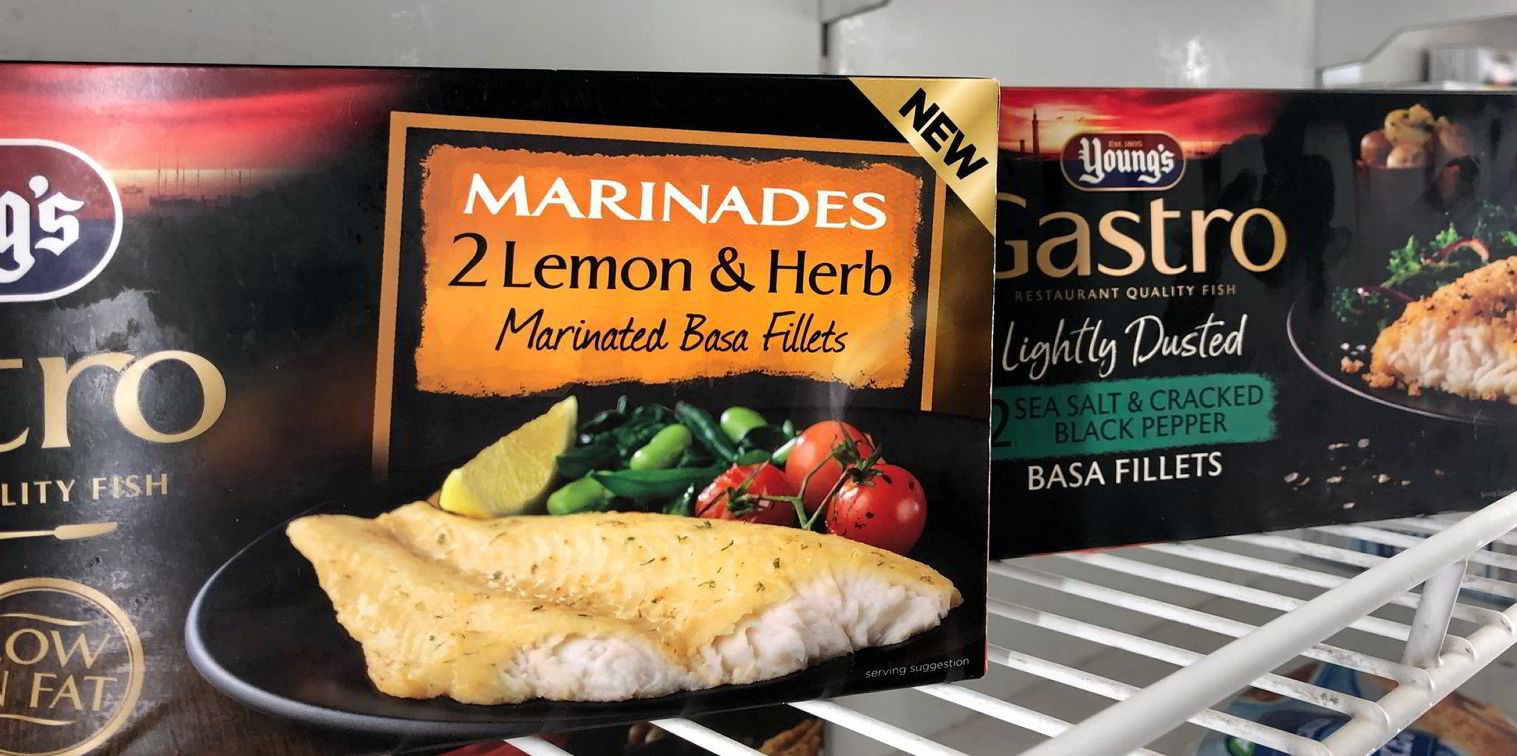 However, a new layer of additional costs is pinching margins and making the fish more challenging to supply. Truong expects increasing production, feed, fingerling and logistics costs in 2022, thanks to a long-term hit from COVID-19 lockdowns and shipping disruptions.
The cost hikes are sparking concern among Vietnamese pangasius farmers about market prices and whether they will increase enough to cover costs.
It is a scenario that makes many hesitant and demands a higher level of commitment from the market if producers in Vietnam are going to invest in stocking ponds.
"If buyers can provide inputs on the forecast plan 6-12 months ahead for farmers and producers, we are confident that farming volume and processing capacity can meet the market demands," said Truong.
'In theory, yes'
Jean-Charles Diener, owner and director of inspection and consultancy firm OFCO Group based in Vietnam, is not so convinced of the viability of pangasius filling supply holes.
Ten years ago, Diener might have had a different opinion, he said. At that time he expected pangasius to enter the same channels as other whitefish products. But this has not happened because pangasius is following a separate track, uninfluenced by other whitefish fillet prices or trends.
In theory, pangasius is a perfect fish to replace those products used in industrial blocks, he told IntraFish, adding that a few Vietnam factories have the skill and capabilities to produce in this format.
While the product would be perfect for producing staples such as fish fingers, Diener thinks the Vietnamese pangasius industry is facing two major weaknesses: long-term strategy and reputation.
"Whitefish fillet blocks head to industry, and from what I understand, it takes time to develop products, and the raw material reputation is essential," he told IntraFish.
The industries buying whitefish blocks also work on long-term contracts and are not able to switch products quickly.
"Vietnam pangasius has two main issues here," Diener added. "One, we don't have a good reputation. It's not fair, but it's a fact, and number two, long-term projects are also not a strength of Vietnam."
There are some exceptions, he noted, in particular larger companies such as Vinh Hoan that could easily develop these products and be successful.
There are even factories in Vietnam that could produce industrial blocks of pangasius that meet the same quality as pollock blocks, Diener said.
"If we refer only to quality, price and quantity, I believe that pangasius blocks could become a serious alternative," he said.
"It makes sense and I believe it should act as a replacement. In theory, yes, but in reality I don't think so."
Source: https://www.intrafish.com/markets/can-pangasius-fill-the-whitefish-void-in-wake-of-russian-shutdowns-/2-1-1188610