Look back 2021: Vinh Hoan's COVID-19 Response Efforts
07 January 2022
Looking back to 2021, the pandemic had resulted in significant economic and public health losses. It also brought several challenges and difficulties, forcing us to react and act immediately, quickly with limberness. When the 4th wave of COVID broke out in South Vietnam in July, Vinh Hoan immediately took practical actions and join hands with the community to prevent the spread. As community support is one of the main pillars of our social responsibility activities, our commitment to the community is reflected in a time of crisis.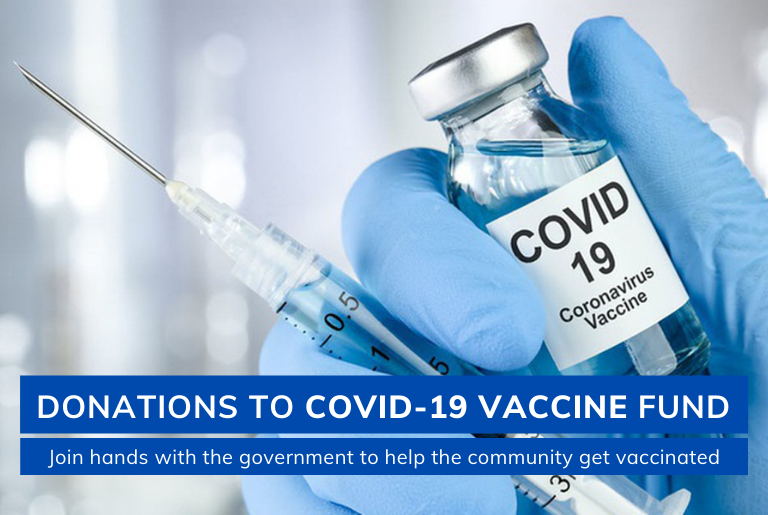 Vaccines are critical to tackling the COVID-19 pandemic. The availability of the COVID-19 vaccine could potentially protect hundreds of millions of lives from severe and fatal outcomes of the disease. It also offers the hope of easing the burden placed on healthcare systems and communities. Responding to the Government's call, Vinh Hoan Corporation donated 1 billion VND to the Vaccine Fund of the Central Committee of the Vietnam Fatherland Front.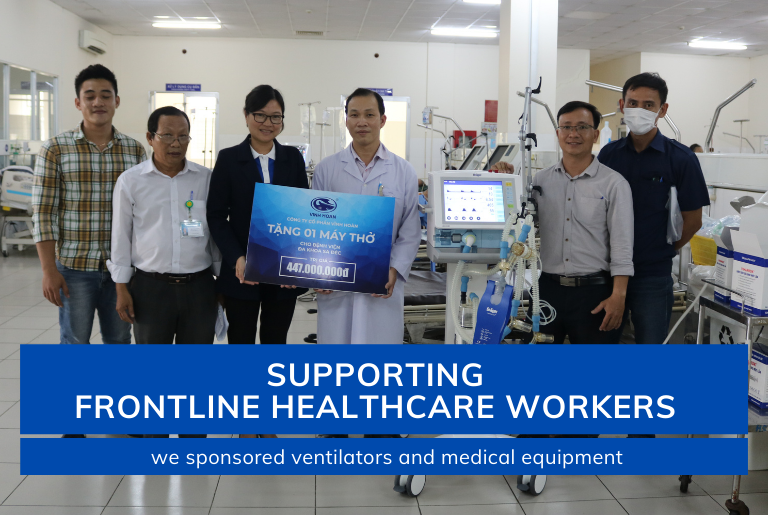 We also view that frontline health workers are an integral part of the journey to fight the pandemic. In hospitals, clinics, and homes worldwide, health workers are taking on significant personal risk and too often working without adequate equipment to ensure all of us can receive the care we need. As such, we view that it is critical to support the communities and frontline healthcare workers.
In September, we donated 2 billion VND to Dong Thap province to equip medical equipment for the prevention of Covid-19; donated 1 ventilator with integrated air compressor inside and 1 set of high-flow oxygen through the nose with a total value of 760 million VND to An Giang Central General Hospital. We also donated 1 anesthesia machine to support patients with breathing and 1 monitor to monitor patients with 5 parameters to Cho Ray Hospital with a total value of 624 million VND.
In addition, we also sponsored more than 13 billion VND for workwear, biochemical test products for anti-epidemic units and supported more than 2 billion VND for COVID-19 test kits to support disease detection and identification.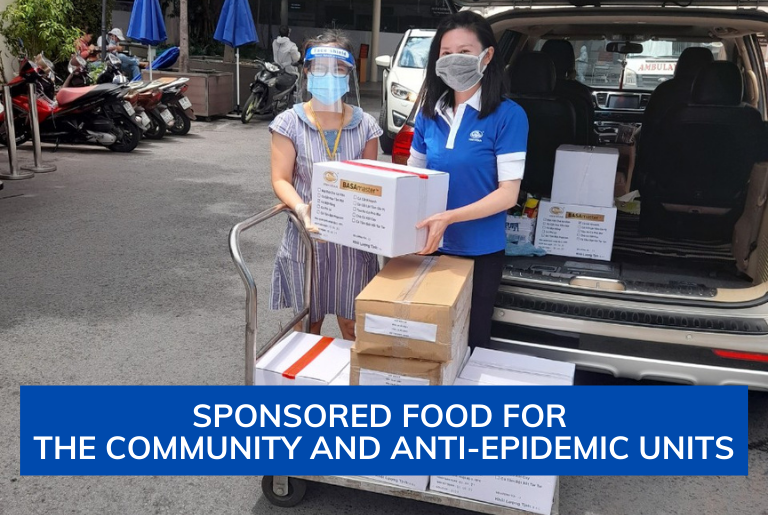 As we are a company operating in the food industry, we understand that it is necessary to have nutritious meals to ensure the best health condition for frontline forces participating in the fight against the epidemic. We cooperated with member companies SA GIANG and BASAmaster brand to donate 5000 BASAmaster products, 20 Sa Giang boxes, and 50kg of fish sausage to the community kitchen to support the frontline against the epidemic. In addition, we also donated vegetarian noodles, Bodhi leaves and eggs for Thu Duc frontline workers, and epidemic prevention units with a total value of 280 million VND.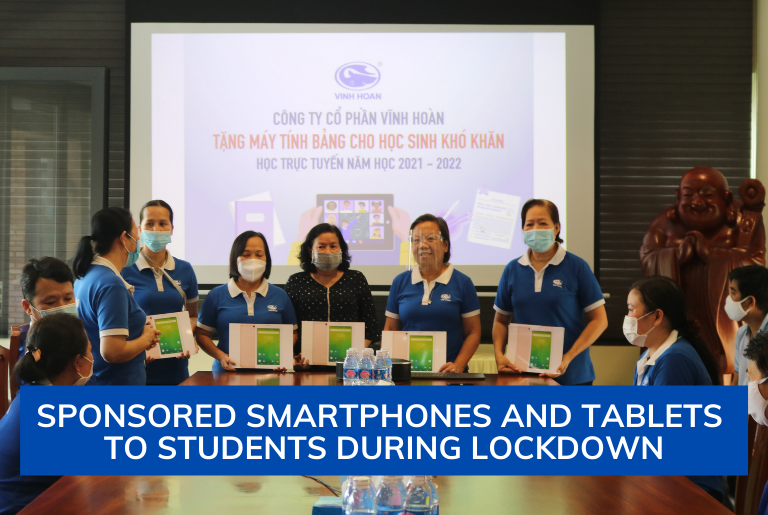 As a result of the lockdown in Vietnam in 2021, most students were not able to go to school and had to switch to study online. It is challenging for students, especially those who cannot afford to equip themselves with technology equipment for learning. Hence, we sponsored smartphones and tablets with a total value of 540 million for local students in Dong Thap province. 
Summary  
With more than VND 25 billion allocated, we had sponsored the community throughout the year with the desire to help the community overcome this crisis period. Health and the wellbeing of our community are our top priority as a leading seafood company in Vietnam; our responsibility is to support the local community whenever we can. We know that our company didn't reach success without the help of its loyal customers, and we won't thrive without the support of its community.